Sponsoring content on LinkedIn allows an organic Company Update to reach more people and be delivered to a whole new audience. Boosting the update with defined targeting and ad spend means that your remarkable content will be seen by more eyes.
It's a powerful and fairly simple marketing tactic that increases your chances of reaching more LinkedIn members than the ones that follow your Company Page, much like boosting a Facebook post.
But what's different about Direct Sponsored Content?
Direct Sponsored Content gives marketers the ability to share content to the LinkedIn homepage newsfeed without first publishing the content on a Company Page or Showcase Page. You can personalise your message, test variations of your content, and ultimately have more control over the content that shows up on your Company Page.
Find out more about Direct posting here.
So the difference between the two is clear, but which one is better? Well there's no straightforward answer. You just have to look at the benefits for each option and then the marketing goal of your campaign to decide the best one for your business.
And if you still can't decide, there's nothing wrong with doing both.
The benefits:
Direct
Share content more relevant to your target audience
If you are sharing content to your Updates and then boosting it, you need to make sure that content fits in with your Updates style and appeals to all or a lot of your followers. But if you use Direct Sponsored Content, you can create and share content that is more specific and targeted to smaller demographic of people.
These Sponsored posts gives you the ability to test and retest a variety of content in real-time until you get it right. Doing so allows for enhanced performance as they aim to connect with audiences, nurture relationships and generate quality leads.
Less restricted posting limitations
Direct Sponsored Content also lifts limitations on who can, and cannot, post in the feed. Because content doesn't have to start on the Company Page, different business units can try content specific for their audience with the Company Page administrator's approval.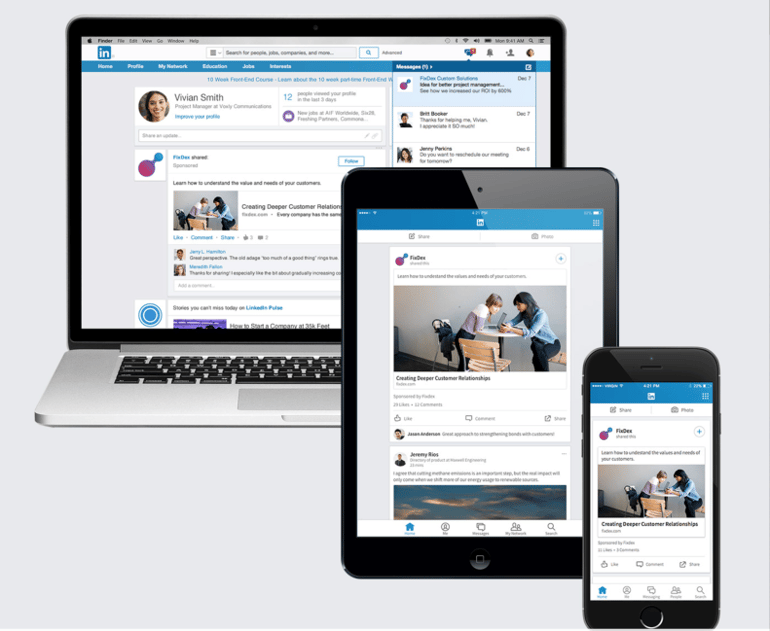 Sponsored Update
Utilise content you already have
Content creation can be time consuming, so it makes sense to give new life to the content you already have.
Highlight important content
Not only do Sponsored Updates let you repurpose old posts, but it's also a great way of highlighting a particular post that you feel proud of or a topic that you want to share. Say you post an Update about an upcoming event you're holding. A good way to boost attendance if you notice numbers lagging is to Sponsor that post.
We're not saying that Direct Sponsoring is difficult, but the process to Sponsor an Update on your feed is incredibly straightforward, even a novice could do it.
When you're in your Company Page admin view, you will be given the option in the toolbar above each post to "Sponsor Now". Clicking on this will direct you to fill out things like Campaign information, targeting and demographics, and lastly budget. All the steps are explained and easy to follow.