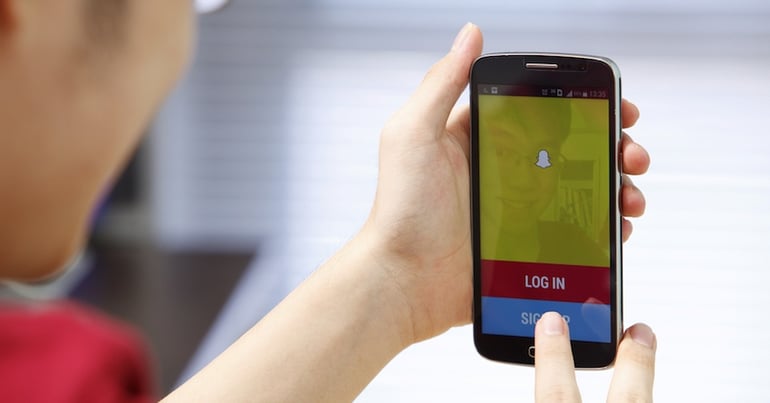 As its user base grows and its value increases, Snapchat is well into the process of finding ways to monetise the platform. While still in early stages, the platform's current monetisation efforts are taking the form of minor in-app purchases that offer users expanded functionality or additional perks. But how will Snapchat's means of earning money evolve in the future?
Purchasable Selfie Lenses
It wasn't too long ago that Snapchat introduced Selfie Lenses that allow users to filter selfies with different animations including vomiting rainbows and taking on the look of some monster. As it stands, there are always seven different lenses, with a new lens that replaces the oldest one every day. But Snapchat has introduced a new tweak that allows you to also preview around 30 other lenses that can be purchased for 99 cents each.
Unlike the seven free lenses, once you purchase one of these circa-30 lenses, it's yours to keep forever. How frequently these paid Lenses will be updated and rotated is not yet clear, but it's likely that Snapchat would want to give them all a good amount of time on the platform so users have a reasonable window to consider a particular Lens before purchasing it.
The move towards purchasable Selfie Lenses is the second notable step in terms of in-app purchases for the platform. The first came in the form of being able to pay 99 cents to get three additional replays of a snap. One replay still applies to snaps for free, but if you really want to see it again you can hand over 99 cents for the privilege.
These minor payments, more commonly known as microtransactions, have the potential of earning Snapchat some decent profits - provided enough users are willing to embrace these microtransactions for the extras. At this point in time, Snapchat has 100 million active daily users. If they could get five or 10% of these users to make a purchase, this would lead to millions being earned for the platform.
Sponsored Lenses
As Snapchat continues to consider its advertising options for the platform, one of these could come in the form of Sponsored Lenses whereby brands would be able to submit branded Lenses for use at a cost. So say a company such as Coca-Cola wants to get in front of Snapchat's 100 million daily active users, it could pay Snapchat for the opportunity to push a branded Selfie Lens through as one of the seven free options - or perhaps Sponsored Lenses will become an additional eighth Lens or even purchasable if Snapchat feels brave enough to go down that route.
Beyond this, there's not much word on how advertising could come to work on the platform. Suffice to say, it's something they will have to approach carefully given the fact that Snapchat is still, above all else, a messaging platform.

If you're an avid Snapchat user, we'd like to hear what you think of these new optional in-app purchases. Do you like them or do you find them too pervasive?
* Snapchat Login Image via Shutterstock