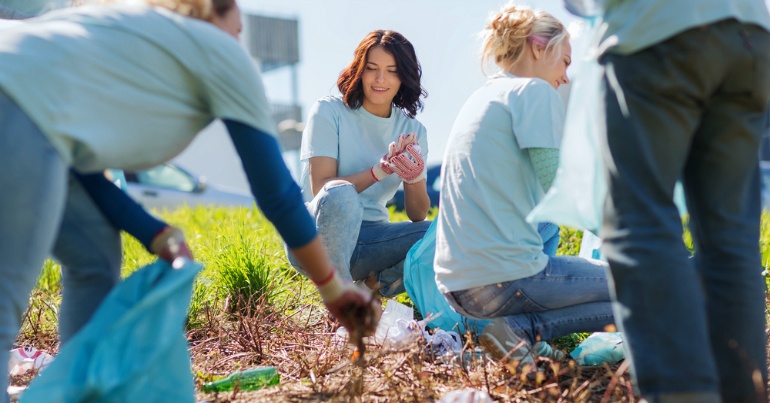 Social media marketing is a big priority for a lot of businesses, but there is still room to grow for not-for-profits. More than half of nonprofits spend 2 hours or less per week on social marketing, whereas half of for-profits dedicate at least 6 hours per week to their social marketing.
Given the power of social media sharing, particularly when they touch on social and community issues, platforms like Facebook and Twitter are the perfect place for nonprofits to increase their reach. And the best bit, for the most part it's free.
Here's some easy and no-cost strategies to employ on social media:
The three A's
Steven Shattuck from HubSpot proposes a rule of thirds for social media posting, with an even spread between 3 categories: appreciation, advocacy, appeals;
1/3 of posts should recognise your donors, supporters, volunteers, employees,
1/3 of posts should be about your industry, sharing and engaging with other groups and non-profits,
and 1/3 of your posts should solicit donations or help.
This formula is a bit different from the rule of thumb for traditional for-profit businesses, which usually advocates the golden ratio: 60% others' content, 30% your content, and 10% promotional.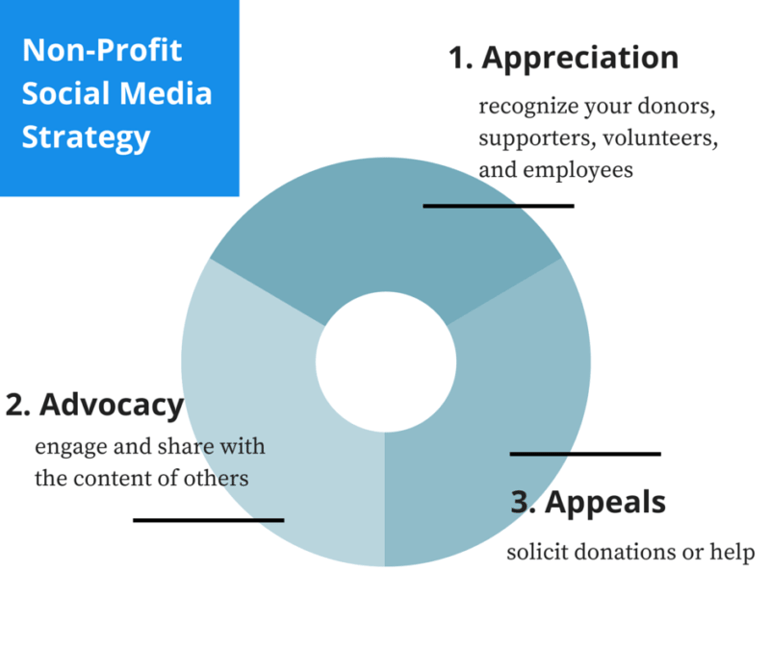 Most nonprofits (and businesses generally) see social platforms largely as a megaphone to make announcements, rather than engaging in conversation and building communities. This rule of thirds is a straightforward way to mix-up posting types and increase real engagement with your followers and supporters.
Behind-the-scenes content
Non-profits have the opportunity to be a bit more open with their social content, rather than the sales-pitch of traditional businesses. Share images or updates from behind-the-scenes at events, inside team meetings or planning sessions, social initiatives, around the office, etc.
You could also ask employees or volunteers to "take over" a social platform for a day. It's a fun and engaging way to introduce your followers to the human faces behind the organisation.
Direct appeals to landing pages
By tweeting or posting appeals (see the third of the 'three A's above), you can direct people to a landing page to make instant donations. It's a straightforward and easy way to direct people through to a payment page.
Have different landing pages set up for different appeals to broaden your potential reach. And make sure you include a specific "ask" for each appeal, with a call-to-action that touches on a real-life issue so that people will feel compelled to donate and know exactly where their money is going.
Champion imagery
We know, it's been said again and again, but social posting with images is far more powerful than simply posting text. On Facebook, images get 87% of interaction rates on the platform and tweets can get 35% more retweets when an image is included.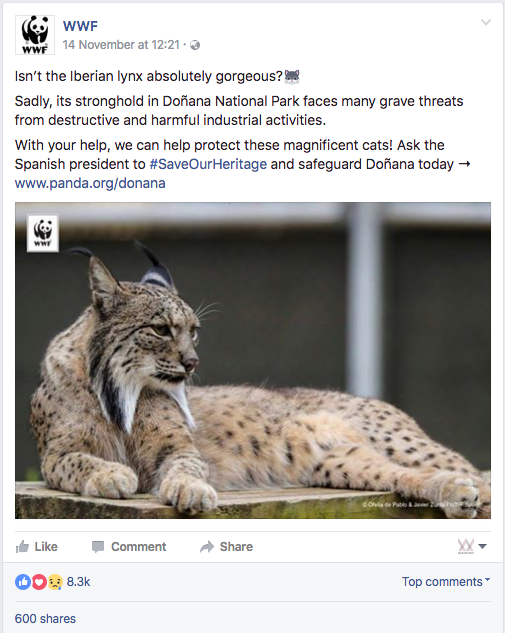 Photos, graphs, infographics, they're all powerful ways to get your message across quickly. Images are also a great way of share an emotionally engaging message; people may feel more impelled to respond to an image that provokes them emotionally, rather than reading text.
Create your own Wikipedia page
Wikipedia pages are a great resource for sharing on your platforms and they can also boost your website SEO. You can easily create your own page here and use it to shape your brand identity online. Just keep in mind that people can add to or edit your page, so make sure you check it regularly.
Simplify donations
Making it easy for people to donate money to your cause or organisation is one of the best ways to boost donation rates. If the process is too hard or involves too many steps, people may abandon it.
If your Facebook page category is "Non-Profit Organisation" you can set a 'Donate Now' call-to-action button. Follow the steps here to add one to your page. It's possible to also set up direct donations on Twitter through tools like Charitweet. You can register your nonprofit with them to set up simple, micro-donations from your Twitter page.

Dedicate time to respond and track
Most NFP's are short on social media staff, with a lot of organisations just ad-libbing their social posting. But the key to effective social marketing is consistency and frequency. Your social profiles will look confused or erratic without a proper strategy in place and at least one person in charge of your social profile.
Find the time to respond to messages, you'll appear more trustworthy if you openly interact with people. And remember to track the effectiveness of your different post types. You will learn which ones engage or inspire followers more and you can use this data to increase your chances of donations.

Are you an NFP? What does your social media marketing strategy look like? Let us know in the comments.