As dozens of brand newsjack Apple's 'bendgate' disaster for their own personal gain, the discussion of newsjacking in public relations comes into play. With Heineken, KitKat, and direct competitor Samsung throwing shade at the design-flawed iPhone 6 Plus, it can be questioned just where exploiting a firm's bad news for your own gain falls on the moral compass.
Despite this, when done well, it can generate a lot of buzz and business for your brand, as well as re-establishing your company's relevance in the fast-moving newsphere.
What is 'Newsjacking'?
Quite simply, newsjacking is a real-time marketing response to a breaking news story or pop culture topic. Often done through social media using a trending hashtag, the often-satirical act aims to establish a brand as a well-read, connected entity, which can leverage a trending discussion to inspire engagement and increase its potential consumer base. Obviously, this kind of conversation can be a very delicate act, especially when the topic is regarding a disaster or of a political nature.
The Good
Whilst it was somewhat overshadowed by Oreo during the 2013 Super Bowl blackout, Tide also showed the power of a well-timed statement. Keeping it simple, witty, and not too serious, the brand released this tweet during the blackout, thus receiving thousands of views and retweets due to the very publicised topic. The power of this attempt lies in the fact that Tide also established itself as a partner to the Super Bowl, an event it had very little to do with before this Tweet.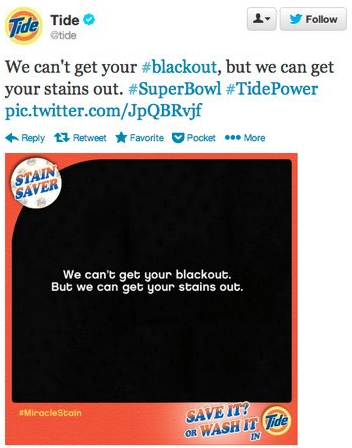 One of the best examples of innovative newsjacking was by The Red Cross in relation to Hurricane Sandy. In the days leading up to the disaster, the organisation designed an emergency app containing important information, a flashlight, and notification systems to tell loved ones you were safe. With over 400,000 downloads and a Top 3 position in the App stores downloads, the Red Cross not only used new technology to establish life-saving assistance for those affected, but also improved their brand image by showing they were innovative and relevant in our social, technology-driven world.
The Bad
On the flipside of Hurricane Sandy, many retail stores tried to capitalise on the storm, resulting in tacky attempts. Urban Outfitters, The Gap and American Apparel failed at leveraging the hurricane hashtags, announcing flash online sales for those 'bored with the storms'. Never mind the fact that a larger chunk of their intended audience did not have the internet during this time, these social media posts drew plenty of backlash, with many vowing never to shop at these stores again. Not the kind of responses they were hoping to generate.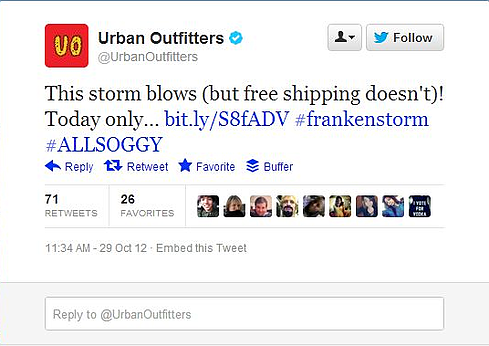 You'd hardly expect an automotive company to poke fun at a political sex scandal, and yet that's exactly what Mini did. When the Anthony Weiner gaffe was hot off the press, the company decided to undertake a Twitter parody of the unfurling events, creating the account @CarlosD.Motor (Weiner's was @CarlosDanger). It posted just one tweet, as below. Depending on who you ask, the tweet could've been a little on the side of bad taste.
Wanna get your hands on my stick? pic.twitter.com/ZpDQbUnWB8

— Carlos D. Motor (@CarlosDMotor) July 26, 2013
The Ugly
Notorious menton: Kenneth Cole. After this many mess-ups, you think the brand would steer clear of Twitter. But, apparently not. The account, run by the company's namesake, often gains all the wrong attention due to being profoundly insensitive. From Syria to Egypt, no international political crisis is safe from Cole, who frequently chooses consumerism over cultural sensitivity. He doesn't seem to mind though.

"Billions of people read my inappropriate, self-promoting tweet, I got a lot of harsh responses, and we hired a crisis management firm. If you look at lists of the biggest Twitter gaffes ever, we're always one through five. But our stock went up that day, our e-commerce business was better, the business at every one of our stores improved, and I picked up 3,000 new followers on Twitter. So on what criteria is this a gaffe?"
If you'd like to keep up-to-date on the latest marketing and tech news, be sure to subscribe to our blog via email. You can find the subscription box to the right on this page.
Margin Media is an inbound marketing company based in Brisbane. We offer a range of digital marketing solutions to help your business increase its website traffic, qualified leads and customer base. To find out more about our services, visit our home page.