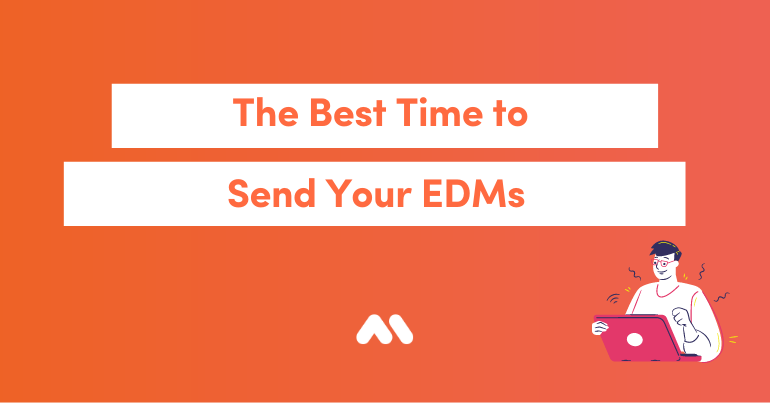 Nothing feels worse than spending time and effort on emails that no one reads. When should you send your EDMs to stand out from the crowd?
The EDM space is now beyond competitive, and it is increasingly difficult to grab a customer's attention through email. There are thousands of companies vying for just a minute of each customer's time.
Advice like "just write better emails" could be unhelpful because even the most beautiful emails may go overlooked or ignored if they are sent out at the "wrong time". So let's instead take a look at when you should send your well-crafted EDMs.
Marketing software company Vision6's Email Marketing Metrics Report takes a dive into some of the statistics we want to look at.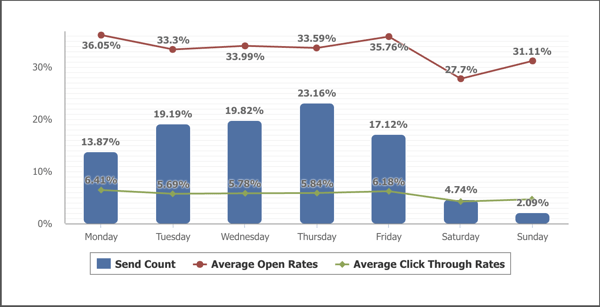 As we can see from Vision6's data, midweek is the most popular time to send email marketing material, with around 60% of all emails being sent on Tuesday, Wednesday and Thursday. Though there isn't a big difference in open rates and click through rates between the weekdays, there is a small increase in those rates on Mondays and Fridays.
It is possible that more emails are opened and clicked through at the start and end of the week simply because there are fewer emails sent out on those days, but we can't say for sure. This seems to make sense though: the fewer emails you receive, the more time you have to read each individual email.
The time of day that you send your EDMs is at least as important as which day you send them, so let's take a closer look at that.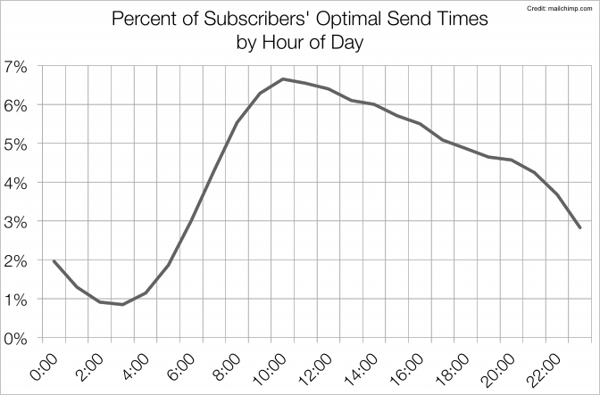 MailChimp's data, from which the above image is sourced, indicates that the optimal email send time is around 10 AM. Be mindful that this counts as 10 AM in the recipient's time zone, not 10 AM in the sender's time zone.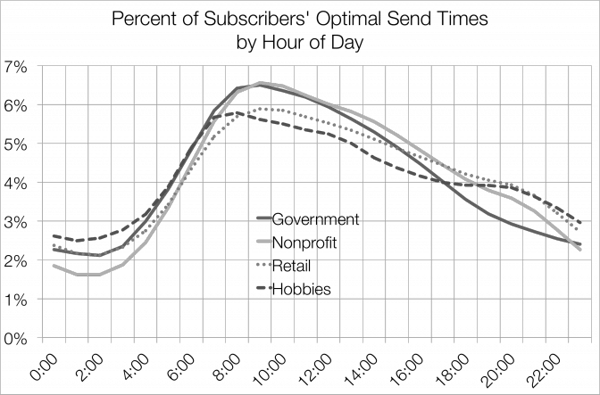 It is also clear that the best time of day depends on what the topic of the email is. As seen in the graph above, retail and hobby content are both popular to the receiver after business hours, relative to government and nonprofit content.
What you also should be considering is your own unique audience demographics. You have access to powerful analytics tools through Google, which you should be using to track when your own peak traffic hours are. If your audience is browsing your website at 9 PM, it might not make much sense to schedule email marketing for 9 AM.
In conclusion, there does seem to be some evidence to the old adage "midweek, midday" when it comes to EDMs. Because most email marketing emails are sent during midweek, though, it is possible that a gap has opened up for sending emails nearly uncontested on Mondays and Fridays.
Between 10 AM and 12 PM seems to be the sweet spot for business emails, but different time slots suits other markets. In the end, it depends on who you are trying to reach. You should customise your EDMs to best suit your own audience if you want to maximise viewership and increase engagement.