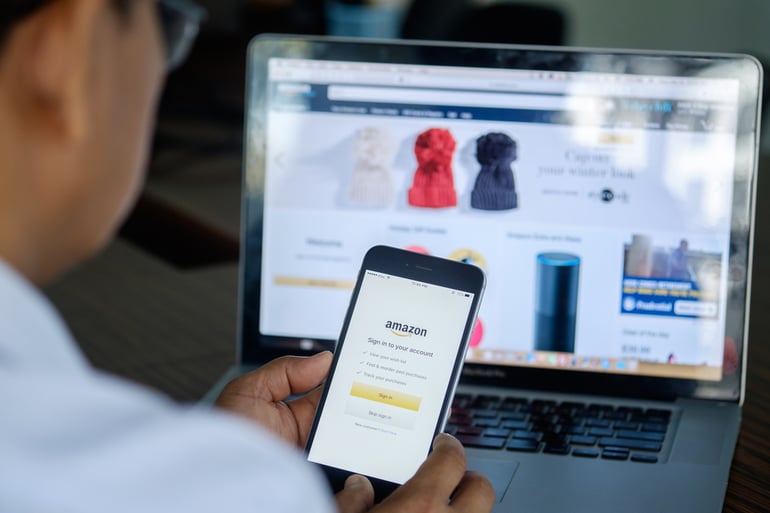 Looking for another way to reach your ecommerce customers? If so, it might be time to consider selling your product through online marketplaces.
Marketplaces are like the shopping centres of the internet. They are essentially a digital platform where you can list your products alongside other vendors or sellers.
If you're thinking of selling your product through a marketplace, then it's important to choose the right platform. In this blog, we're sharing the pros and cons of selling on online marketplaces to help you make the right decision for your ecommerce business.
How do Marketplaces work?
Instead of purchasing stock at wholesale rate, a marketplace will change commission on every sale (usually between 20-40%). The platform will take care of all the technical aspects for you and can even provide customer service. When someone places an order, you will be notified to organise the shipping.
Many popular marketplaces can be integrated directly with your Shopify store. This includes Amazon, eBay, Catch, Google Shopping, and Etsy. This can be a great way to boost your sales and reach a wider audience.
Marketplace Pros
Wider Reach: The main benefit of selling through marketplaces is that it gets your products in front of a wider audience. Platforms such as Amazon and Catch already have a huge audience, which means your product will be seen by more people. This can be especially helpful if your brand is just starting out and looking to expand its reach.


Builds Customer Trust: Selling on marketplaces also helps you to establish credibility with your customers. They will have trust in Amazon, and so, are more likely to trust your brand. Once a customer trusts your brand, then they will make a purchase.


Less Technical Hassles: Another advantage of platforms like Amazon is that they have teams of people managing all the technical aspects of the site. That means they have the capacity to handle huge amounts of traffic and rarely crash. As a seller, you can rely on their platform and not have to worry about technical issues that you may run into in your own website. You can save time, effort and money.


Offers Easy Customer Service: Providing quality customer service is made easy for you through marketplaces. For example, Amazon provides 24/7 customer service. It can do after-sales services like returns, exchange, delivery payment, and more.


Manages Shipping and Delivery for you: When you run an ecommerce store, shipping and delivery is a big part of your business. Selling your products on Amazon will save you the hassle of managing logistics. These platforms can manage shipping, delivery, returns, and exchanges for you. This can help you save a huge amount of cost.
Marketplace Cons
High Competition: The main disadvantage of marketplaces is the huge competition. Your product will be displayed alongside similar products from your competitors. It can be difficult to stand out as a small business and compete with the sales and discounts offered by larger businesses.


Delays in Payments: In a physical retail store, payments are received immediately. In an online store, the money is not credited to you straight away. Once the order is placed and the sale is made, it takes a few days for the money to reach you. The payment is first received by the marketplace. Service fees and other deductions are made before transferring the amount to the seller. On Amazon, this can take from 7 to 14 days.


Social Media Marketing Costs: Another expense that you have to consider is promoting your products through paid social media ads. This is necessary if you want new customers to find your brand and buy your product on the marketplace.


High Commissions: Another disadvantage of selling on marketplaces is that they charge you commission fees. These can be from 20-40%. This can make it difficult for small businesses to make a profit.
How to Start Selling on Marketplaces
Now that you've considered all the pros and cons, it's time to get started! Follow these simple steps to get set up and start selling your products on an online marketplace:
Research competitors and platforms
Choose the right platform for your industry/ niche/ market
Create an account and list your products (tip: don't forget to include compelling copy in your description and visually appealing photos of your products)
Set the right price (and keep it consistent)
Set up your inventory and shipping
Promote your products on social media
Be patient
Ask first customers for feedback
Track customer returns and complaints
Monitor your sales and look for opportunities to improve
Looking to Level Up your Ecommerce Store?
Whether you need help setting up your Shopify Store, hitting your sales targets, or reaching your customers, we can help.
At Margin, we are a full stack ecommerce agency with an in-house team of paid search specialists, designers, developers and online marketers. We can help you gain a clear direction for your marketing efforts and take your ecommerce store to the next level.
Talk to us today.