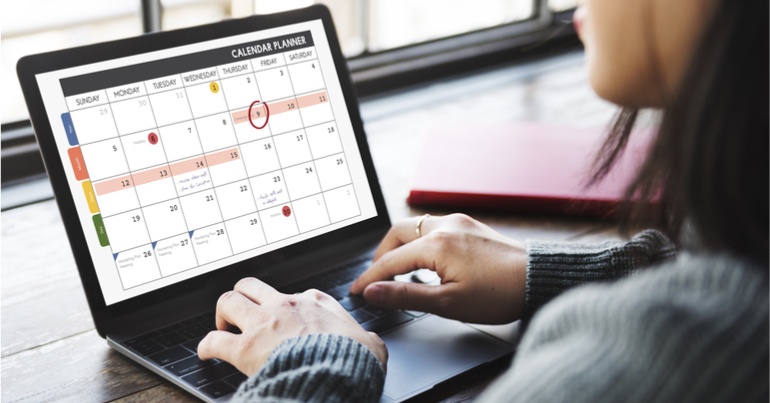 Social marketers have for years understood the importance of scheduling posts to most effectively generate leads, but one platform refused to get on board. That was until February when various third party scheduling apps announced that direct publishing was now available on Instagram.
The Facebook-owned image sharing platform had been the thorn in the side for many social media managers, but the announcement opened a new world of opportunities for marketers to target their buyer personas more precisely.
So what does this mean for businesses?
SCHEDULING BENEFITS
When it comes to marketing a particular product or campaign, it's pivotal that the message reaches the intended target audience with speed and clarity.
For instance, it would be remiss to show an advertisement for kids' television programs late at night when the intended audience is fast asleep.
The benefit of scheduling posts gives the marketer complete control over timing and audience segmentation. In other words, it allows the marketer to reach the audience where they are, by tailoring posts and campaigns with geographical and timely precision.
As a social media manager overseeing the content coordination of several distribution channels, such as Facebook, LinkedIn, Instagram and Twitter, it can often be hard to find the time to post natively.
Scheduling allows you to publish specific posts, at specific times across a range of platforms, maximising reach and ensuring the posts get the exposure they deserve.
If a business had a target market that stretched across time-zones, short of waking up in the middle of the night and posting, there was little social media managers could do before scheduling.
It grants marketers the ability to schedule reposts and repeats for different dates and times, to accommodate a multinational audience.
Having a set schedule of posts across a range of platforms creates a harmonious and unified content strategy, increasing brand equity through your posting schedule.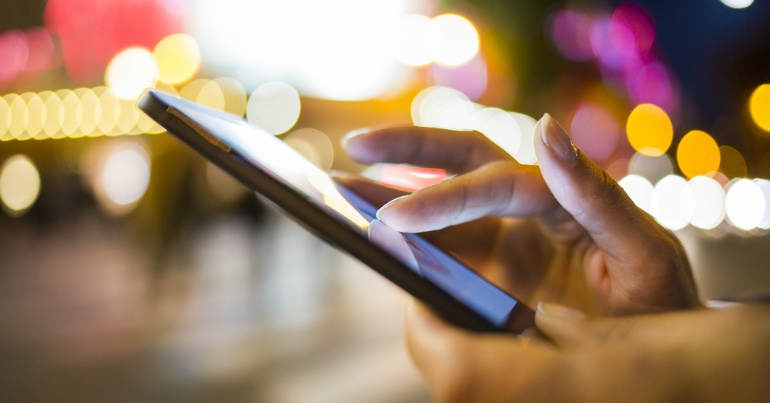 INSTAGRAM'S UNWILLINGNESS
Unlike its parent company; Facebook, image-sharing platform Instagram did not allow users to direct publish on their feed.
The best alternative was to queue posts via a third party app, meaning that at the predetermined time, the user would receive a message that it was time to post with their prewritten caption copied and ready to paste.
While queuing posts on Instagram certainly saved time, it didn't alleviate the unwanted duty of waking up in the middle of the night to post.
Users still had to add the caption themselves and go through the image-posting sequence manually in order to meet the demands of their social media content calendar.
The introduction of direct publishing now means that marketers can schedule a post and have it sent off automatically, without the need for user approval.
Social media managers rejoice, there's no longer a need for the midnight wake-up call!
HOW TO SET UP DIRECT PUBLISHING
The process isn't as simple as some of the other social platforms however, and there is still a few things you have to do before you can make use of the feature.
Here's how it works.
FIND A THIRD PARTY SCHEDULING APP

The first step in setting up direct publishing for Instagram is find a suitable third party scheduling app. Unlike other social platforms, which have the feature built into their user experience, Instagram isn't currently set up for non-native posting.
Downloading an application such as Buffer or Agorapulse will grant you access to their features and ultimately allow to set up direct publishing.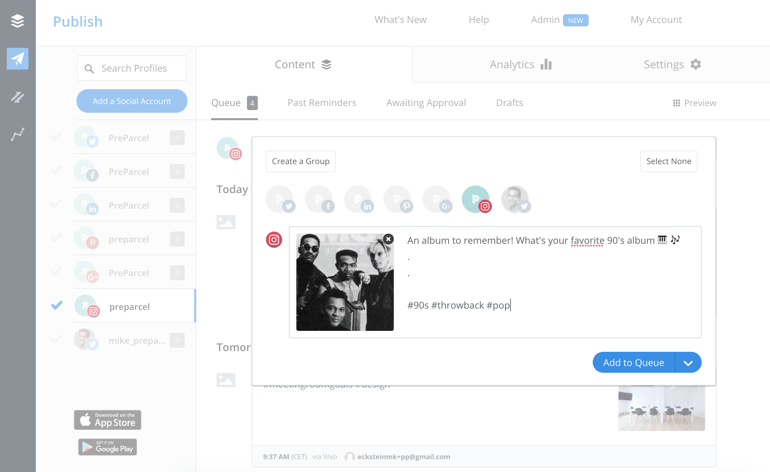 (Scheduling platform Buffer, image via buffer.com)
SWITCH TO BUSINESS PROFILE
If your page isn't a business profile already, you will need to change it to allow for direct publishing. Having your organisation on Instagram as a business profile also enables you to view Instagram's analytics and chart campaign success from within the app, as well as add links to your website and hashtags.
CONNECT YOUR INSTAGRAM
From there, the third party app of your choice will ask you to connect your Instagram page. You will be asked to login and give the app permission to post your behalf. This process is exactly the same as if you were queuing posts to begin with.
CONNECT YOUR INSTAGRAM PAGE TO A FACEBOOK PAGE
This is where the direct publishing process takes a slight turn. You will be asked to connect your Instagram page to a Facebook page, giving authorisation for the app to post and schedule on your behalf.
In other countries, this is not always a necessity but in Australia this is a requirement of the new feature.
START SCHEDULING!
Once you have connected your Instagram and Facebook page as well as authorised the app to post on your behalf, you are now free to schedule posts as you like.
While you should pay close attention to the peak times of your target market, in many cases, you'll find the scheduling app you have downloaded has its own in-built algorithm that charts when the best time to post is.
If your content has been keeping you up at night, the introduction of Instagram's direct publishing feature should have you rejoicing. Reach your target market with greater efficiency without having to post natively. If you haven't already, it's time to start scheduling!
What do you think of Instagram's direct publishing update? Love it or leave it?