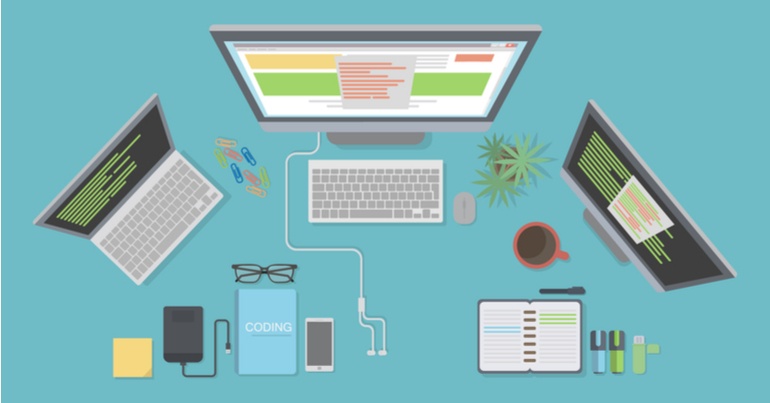 We dust off the old crystal ball and predict the biggest web design trends for 2019!
The new year is just around the corner, and you might be due for a website overhaul. The list of things all websites need to have is long and getting longer, so let's take a look at what we think will be the top trends in 2019!
Speed
How much time does your website have to make a good first impression? 10 seconds? Five? Nope. Less than three seconds. Users today expect a website to load in two seconds, and they will exit a site if it takes more than three seconds to load.
The need for speed means that your website has to be quicker than its own shadow in 2019. You could have the most beautiful homepage in the world, but nobody will ever end up seeing it if it takes five seconds to load.
Optimising load times and actually making website speed a priority during the design phase is now a must to stop your site from being left in the dust.
In addition to picky visitors' demands, there are now reasons for creating a quicker website other than just user experience: Google prioritises quickly loading websites over slower ones, so there are legitimate SEO concerns surrounding slow sites.
Mobile first
The number of Google searches made on mobile were higher than those made on desktop computers for the first time back in 2015, so it's not exactly as if the mobile revolution is just starting to kick off.
However, as more and more time is spent on phones, you can expect websites to be built for phones first and foremost. The average person now spends a daily three and a half hours on their phone, and it is expected that phones will overtake TVs as the medium that attracts the most minutes on an average day in 2019.
Because most web traffic will be coming from phones, you can expect websites in general to strip away big images, uncompressed videos and slow Javascript in order to streamline both mobile looks and load times.
As with speed above, Google now also considers how mobile friendly a website is when ranking websites for SEO purposes, so this is more than just aesthetic nitpicking. Having a mobile friendly website can make a genuine difference in your number of visitors, and, therefore, your revenue.
Minimalism
As websites trend toward optimising load time and being mobile friendly, it is both natural and necessary that they also become minimalist. That doesn't mean that websites will become plain and boring, it just means that they won't be cluttered with heaps of large pictures, embedded videos that autoplay, and more.
In fact, there are a number of trend that we will probably see within website minimalism in 2019 that are quite exciting and aesthetically pleasing. For one, you can expect to see more geometric shapes and bright, saturated colours used to liven up a site instead of the usual large images.
We will probably also see an increased focus on the use of blank space, also known as negative space, on websites. You should also keep an eye out for typography, as it starts to receive more attention. Airbnb, for example, designed their own typeface in 2018.
Headlines written in big font sizes could be big in 2019, no pun intended. Serif fonts are also poised for a comeback after years on the sidelines. Single page or pageless designs will probably also pick up more steam, although it is already fairly popular with cutting edge websites now. See Bloe Creative's website for a great example of this.
Call me a nerd, but nothing's better than a great font.
Chatbots
Conversational marketing is a more human way to create leads for your business - by using robots. Ironic, I know. Chatbots are already here - and are making big impacts on big industries - and you can definitely expect these artificially intelligent friends to pop up everywhere in 2019. I, for one, welcome our new robot overlords.
Chatbots will start talking to users after they have spent x amount of time on a certain web page, with the hopes of helping visitors get over their pain points. They can answer questions the visitors may have, and, if the chatbot becomes stumped, it can connect the visitor with a real human customer service agent instead.
Chatbots are already smart enough that they seem very human. They can be super helpful for curious customers, and are only going to get better with time. We definitely expect more and more retail websites to implement chatbots in the coming year.
Ready to think about a website redesign for 2019? Click here to download our free 10 step checklist: