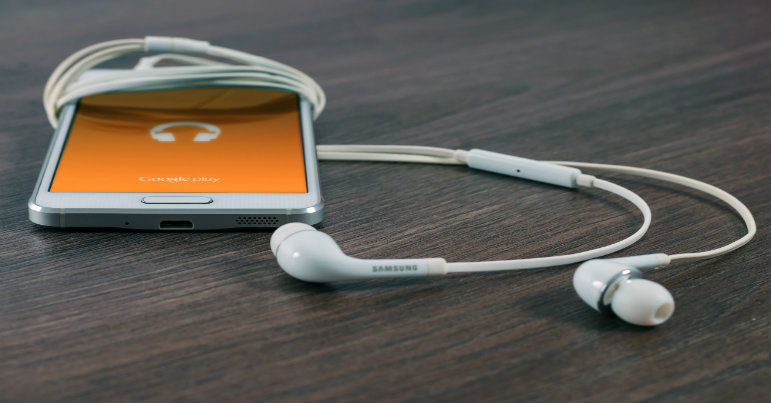 Podcasts are a growing market of audio content that are amazingly versatile in regards to the styles and subjects they cover. Whether you are an aspiring marketing genius, or want to know how to improve your own small business, there is a podcast out there for you.
See Also: 3 Reasons Why Your Business Needs To Start A Podcast
I've compiled the following list of my Top 5 favourite marketing and business podcasts. Each one has its own spin on the topic, and is loaded with inspiring and useful content about the latest marketing trends, and easy marketing ideas.
Listen to them in the car, on the train, while you walk the dog, or even while you are doing the dishes.
Here they are in no particular order...
DUCT TAPE MARTKETING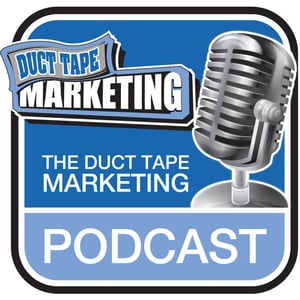 HOST: John Jantsch
Duct Tape Marketing targets small businesses, and aims to be as "simple, affordable, always-at-the-ready, and effective at solving any of a host of problems" as a roll of duct tape is to the everyday handyman.
The podcasts consists of interviews with influential and best-selling authors of marketing relevant books and industry thought leaders. The episodes are very educational, and the host, John, is very knowledgeable and well researched. The Podcast has been running for over 10 years, and releases episodes a couple of times a week.
EPISODE LENGTH: 30 minutes or less
GREAT EPISODES TO GET YOU STARTED:
Using your personality and Authentic Self to build a platform, with Chris Ducker.
How to Create Content that's stands out and gets Results, with Garrett Moon
Or find your own favourites here.
COPYBLOGGER FM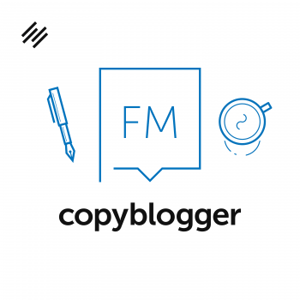 HOST: Sonia Simone
This podcast targets existing marketers and business owners who are looking to improve their content marketing strategy. Consists of weekly content marketing, tips, best practices, and case studies along with what the host admits to be "… a rant once in a while".
Sonia has the kind of smooth, mellow voice that is reminiscent of a late night smooth jazz radio host. Episodes vary from interviews with other leading industry influencers, to just Sonia's advice for common content creation challenges. She has an impressive background in content creation and willingly shares her numerous skills and expertise with her audience.
EPISODE LENGTH: Usually around 20 minutes.
GREAT EPISODES TO GET YOU STARTED:
A Simple Content Strategy to Make your Site Massively More Useful
Storytelling for Modern Content Marketing (Part 1 & 2)
And find plenty more quality content right here.
THE SMALL BUSINESS BIG MARKETING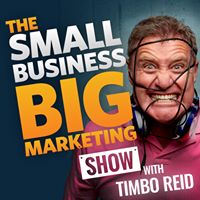 HOST: Tim Reid
As the title suggests, this show's target audience is small business owners. The host Tim is an animated and passionate host, who says he just loves "helping thousands of small business owners create something that's truly irresistible".
The podcast is a quality production complete with sound effects and a fantastic intro song. It's an Australian production, but has a global reach and has produced over 400 episodes. Each one includes an interview with a small business owner or industry thought leader, conducted as honest and informative conversations. Each episode then ends with quick and effective marketing ideas that listeners can easily implement.
EPISODE LENGTH: Usually just under an hour long
GREAT EPISODES TO GET YOU STARTED:
How to become an opinion leader in your industry with teacher, author, keynote speaker and media darling Sharon Witt #406
How to create amazing customer experiences using customer relationship management (CRM) software with Salesforce's Jeremy Smith #394
See much more quality content and subscribe here.
YOUPRENUER: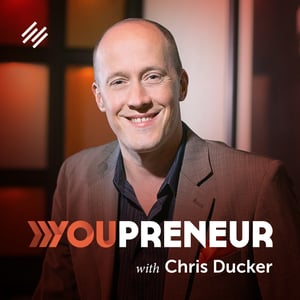 HOST: Chris Ducker
If you are, or aspire to be, a speaker, author, coach, consultant, expert, blogger, podcaster, freelancer or solopreneur, this podcast is something you need to be listening to... now! The host, Chris, describes it as "a melting pot of information to get you kitted-out with all the tools, tips and tactics you need to be able to start, run, support and grow a business in the 21st century."
Chris Ducker is a very enthusiastic and inspiring speaker, made all the more engaging with his charming London accent. Most episodes include Chris speaking directly to you, sharing his expertise, reading excerpts from his award winning books, and the odd interview with his many amazing industry connections.
EPISODE LENGTH: Episodes are usually around 15 minutes, with a weekly Tuesday episode that's only around 5 minutes long.
GREAT EPISODES TO GET YOU STARTED:
YOU268 How to Spread your Message more Successfully than Ever Before!
YOU262 How to Build a Winning Online Video Strategy, with Ben Amos.
Discover heaps more inspiring content here.
#BUSINESS ADDICTS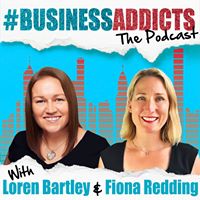 HOSTS: Loren Bartley & Fiona Redding
This is another Australian born podcast that is made by, and for self-proclaimed #businessaddicts. Listeners are invited to listen like a friend chatting over coffee, while the hosts discuss all things business and marketing either between themselves or with their guests.
While both hosts are clearly very skilled and accomplished in business, they describe themselves as "… not perfect. In fact, we are on a journey of self-improvement ourselves, that's why we started this podcast in the first place" Their passion for the industry comes through loud and clear, and listeners are sure to be caught up in their enthusiasm.
EPISODE LENGTH: between 40 minutes to an hour.
GREAT EPISODES TO GET STARTED:
Social Media Marketing World & Traffic & Conversion Summit 2018 (episode 103)
Validating Business Ideas with Pat Flynn (episode 100)
There are plenty more great episodes to be found here.
There you have it. So many value-bombs just waiting to blow your mind!
PRO TIP- When it comes to listening to these podcasts make sure to check out the show notes. Rather than scribbling down notes as you listen, most of the time the details and links mentioned in the show can be found there.
Do you have a favourite Podcaster that didn't make this list? Comment below and share with us your go-to podcasts.