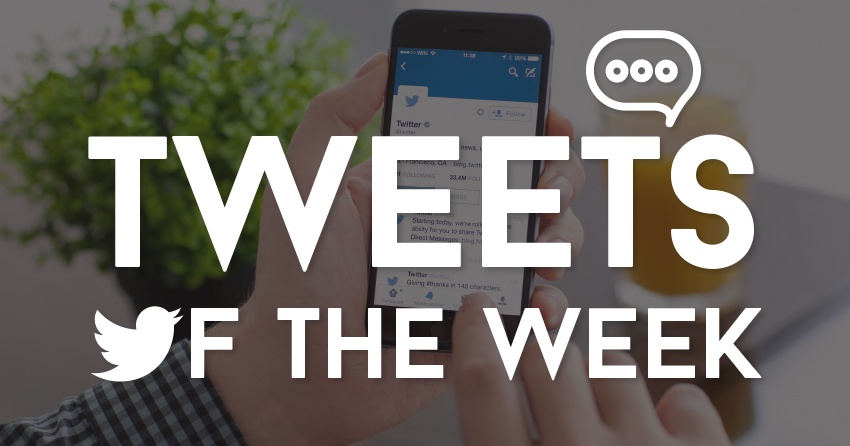 For the past month, we focused on all things web design. This week, we hone in on some of the more inventive, noteworthy endeavours on Twitter! We recap what has been an eventful June!
This week in one image: pic.twitter.com/DBs7iEiFJl

— David Roberts (@drvox) June 26, 2015
It was a monumental week in the US this past week!
Adidas made these sneakers entirely from ocean plastic trash: http://t.co/iU9SixvqSq pic.twitter.com/QVrZswt36s

— Fast Company (@FastCompany) July 1, 2015
Technology never ceases to amaze.
[New Data] Twitter Beats Out LinkedIn as Salespeople's Favorite Social Media Site http://t.co/p6pvoeOypd by @emmajs24 pic.twitter.com/SVLkpfQorS

— HubSpot (@HubSpot) July 1, 2015
This is part of the reason why we focuse on tweets of the week!
For every $1 you spend with @uber, it costs them $1.13...Uber Term Sheet Reveals $470 Million in Operating Losses http://t.co/kQ2XnxNOib

— Brian Solis (@briansolis) June 30, 2015
Startling fact.
Register your unique Apple Music nickname before it's too late http://t.co/Rx5elZ6LV0 pic.twitter.com/Hs1CXontFe

— Matt Navarra (@MattNavarra) July 1, 2015
Apple Music has launched. Update your devices and register yourself now!
Case Study: How I Increased my Email Optins from 3.9% to 9.14% in a Month http://t.co/ZyCf1PDNLc @shashankscg pic.twitter.com/MUNHhAIOuM

— Francisco Rosales (@socialmouths) June 27, 2015
Those who think email is on the way out should think again.
If we're coasting, we're going downhill.

— Amy: Digital Royalty (@AmyJoMartin) May 12, 2015
Twitter introduces #Wimbledon emoji to keep tennis fans entertained in #TheQueue or on #TheHill. Smashing.

— We Are Social (@wearesocial) June 26, 2015
The mere *existence* of this graphic is horrifying. pic.twitter.com/6Jl6NoMV7P

— Cameron MacLeod (@c_9) June 19, 2015
Sometimes infographics can paint a terrible picture.
Nepal is having a festival where dogs are honoured for their special friendship with humans. China, watch and learn. pic.twitter.com/kEw8uzOqp4

— banksy (@thereaIbanksy) June 24, 2015
And some tweets can make you feel like there is some good in this world.
QWERTY waffles! Just my type. Where was this for Father's Day?? pic.twitter.com/oVpVv4CNOz

— Bruce Feiler (@BruceFeiler) June 24, 2015
#PrattKeeping is a key component of the exhibition process. Our Dinosaur Curator, Matthew Carrano, has a tough job! pic.twitter.com/IUCAP6LTBK

— Smithsonian's NMNH (@NMNH) June 23, 2015
Jurassic World appreciation at the Smithsonian!
If you'd like to keep up-to-date on the latest marketing and tech news, be sure to subscribe to our blog via email. You can find the subscription box to the top-right or on the bottom of this page.