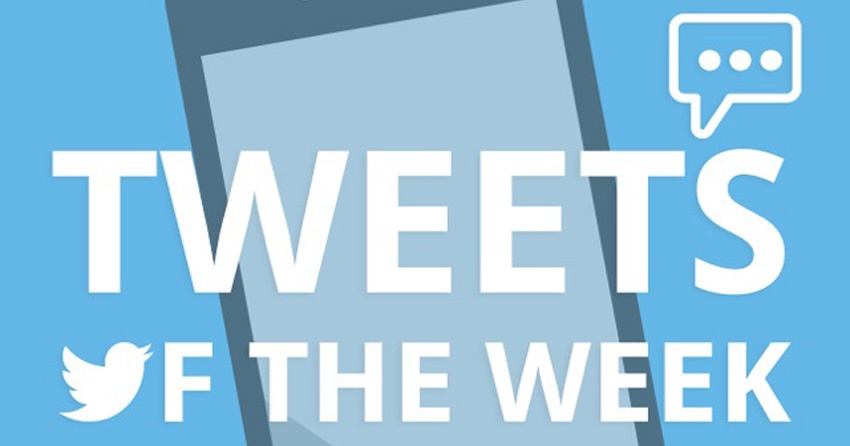 For this week's tweets we don our scientific spectacles and have a look at some of the more intellectually stimulating happenings on our favourite 140-character messaging platform, many of which come courtesy of the USA.
Watch President Obama send his first tweet from @POTUS. #FollowTheTweets https://t.co/N8JxY8kQIE

— The White House (@WhiteHouse) May 18, 2015
With great power, comes great responsibility...
Welcome to @Twitter, @POTUS! One question: Does that username stay with the office? #askingforafriend

— Bill Clinton (@billclinton) May 18, 2015
Bill, always trying to get in on the action.
Hello, Twitter! It's Barack. Really! Six years in, they're finally giving me my own account.

— President Obama (@POTUS) May 18, 2015
The most powerful man in the world is now on Twitter... We wrote a more extensive article on this, which you can view here.
'Flying away from one of the most incredible auroras I've seen.' - @AstroTerry on @Space_Station pic.twitter.com/78K1wRZULq

— NASA (@NASA) May 16, 2015
NASA hands down have the most informative, inspiring and down right spot-on Twitter game.
A great image comparing Mobile Phone sizes over the years. pic.twitter.com/59BHTTv3wt

— Leslie Fisher (@lesliefisher) May 13, 2015
The bigger, the better if you ask me.
In U.S., minimum-wage workers must work 50 hrs a week to escape poverty. In Australia, just 6. http://t.co/I9GlhvBpdr pic.twitter.com/6QCCdoI1yK

— Steven Greenhouse (@greenhousenyt) May 12, 2015
We live in an amazing country, no matter how much people complain.
At what age are you in your prime? (Data @YouGov: http://t.co/bAOyGtAZl6) (DataViz: http://t.co/8K6BunsnCW) pic.twitter.com/XOEr69dp0M

— Max Roser (@MaxCRoser) May 3, 2015
Yes, a lot of information to try and figure out when you peak.
Aerospace Engineers Warn First-Grader's Design For Spaceship Completely Unsafe http://t.co/NsjlAgTFn6 pic.twitter.com/8rbdnVDxwt

— The Onion (@TheOnion) May 1, 2015
A little electrical tape here,some PVA glue there and we have a fully working spacecraft. Excuses, excuses...
Nothing compares to the golden hour @GoldenGateNPS in #California. Photo by Eric DaBreo #sunset pic.twitter.com/VkAOu9Z7s7

— US Dept of Interior (@Interior) April 30, 2015
If you don't already follow these guys on Twitter, then you are missing out!
If you ever think you're having a bad day... #Waterloo pic.twitter.com/iEE1bD4H4i

— Mark Wallace (@wallaceme) May 1, 2015
Some people, right!
25% of US adults say athletic skills are among the most important for children to get ahead in the world today pic.twitter.com/4PbZ1iTD75

— Conrad Hackett (@conradhackett) May 1, 2015
Stop finger painting right now and get your baby networking.
Our most popular pic on social media last week: A beautiful pic on #JohnMuir Trail @SequoiaKingsNPS pic.twitter.com/CU5RMYPg9B

— US Dept of Interior (@Interior) April 26, 2015
If the stunning image before didn't convince you, then maybe this will.
Median Ages around the World – The oldest countries are #Germany & #Japan with 46.1 ! (http://t.co/oFhSXhI13E ) pic.twitter.com/fncYwlujw0

— Max Roser (@MaxCRoser) April 25, 2015
It is sad to see how Africa has become a forgotten continent while the rest of the world advances. This infographic speaks volumes.
FFA Chairman Frank Lowy has been treated by paramedics following a nasty fall off the dais at the #ALeagueGF. #9News https://t.co/r7N3xxJjfp

— Nine News Australia (@9NewsAUS) May 17, 2015
Poor old Frank, boo'd and took a tumble... for ratings? No, no... he just fell.

Check out last week's tweets of the week!