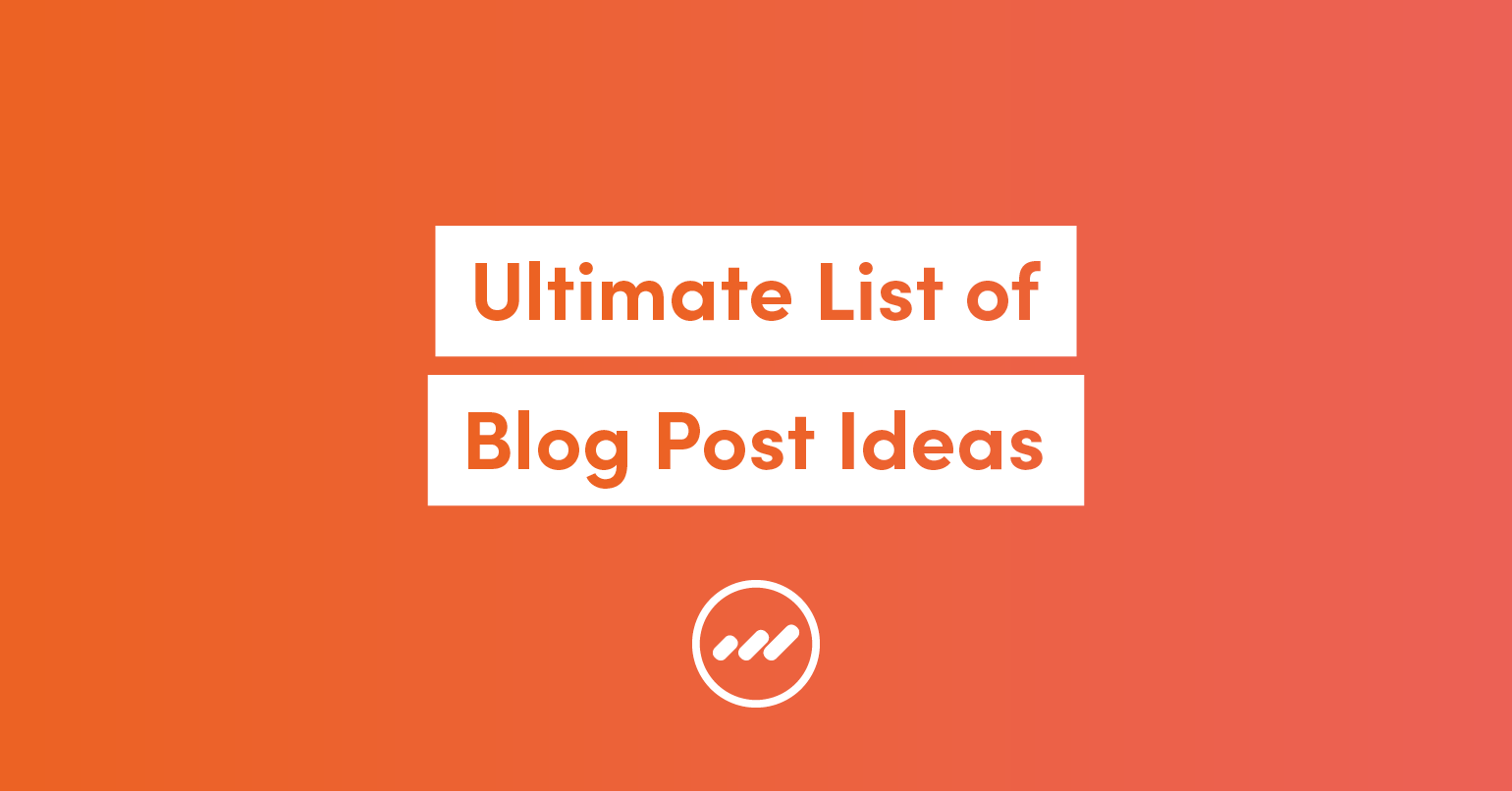 When it comes to writing and maintaining interesting blog posts, sometimes it can be difficult.
You're probably thinking, "I've written everything there is to write about, haven't I?"
What more can you say?
What more can you talk about?
Blogging is a powerful strategy to engage your audiences and is an opportunity for you to connect with them by allowing them to get to know you well and trust what you're talking about. For blogging to work to your advantage, you need to constantly come up with unique content that shows off your expertise and interests your audience.
It's important to remember your blog should constantly be about new ways you can help your readers, rather than thinking "What else is there to write about?" Re-focus your blog posts on your readers and what they crave to read.
Brainstorming a list of blog post ideas can be time consuming when you have a million other priorities to worry about, so that's why I've gone ahead and done it for you! Here is a list of ultimate blog post ideas that are bound to keep your blogs interesting and keep engagement levels higher than ever!
Start by getting into the head of your reader.
1. Get Ideas From Your Blog Followers!
If you look in the comments section of your blog posts, it is more than likely that your followers have said what they liked or didn't like about a particular post and what they'd like to see next.
2. Write A Holiday Related Blog.
It's nearly Christmas time and that means your followers are most likely putting up their Christmas trees and buying lots of presents in the lead up to Christmas day. Maybe even give them a checklist of things to get done before the big day. Check out this Christmas Checklist for 2019!
3. Post About Your Daily Routine Or Schedule.
Whilst your daily routine may seem boring to you, others could gain great insight into what you do daily that they may want to implement into their own lives. It also creates a personal connection between you and the reader.
4. Review Your 2019 Goals.
Tell people what your goals for the year were and whether you achieved them or not, and maybe even include your 2020 goals!
5. Talk About How Your Industry Of Work Differentiates From Others.
Giving your readers insight into your field of work is a great way to spice up your blog and get more personable. Ask them to leave comments about their industry of work and how it differentiates from yours.
6. Sit down With An Industry Influencer.
Interviewing someone within your industry is an excellent way to grab your audience's attention and make them feel like they are a part of something exciting! It also benefits you because it's a new addition to your blog and is a great way to network with others within your industry.
7. Talk About How You Got Started In Your Career.
Who helped you get there? Was it easy or hard? Answer the questions people want to hear about your industry and how you got there!
As a blogger, you have the opportunity to influence your followers and the way they see things in the world around them. It's important to cover what may seem like basic topics when blogging, but are actually topics we often forget to discuss.
When you let your audiences know more about you and show them you are paying attention to what content they want to see… you are bound for success!
If you take one thing away from this most, make it this: re- Focus your posts on the reader, what they want to know and what they ask you about! At the end of the day, the readers are what help you establish your growth as a blogger.