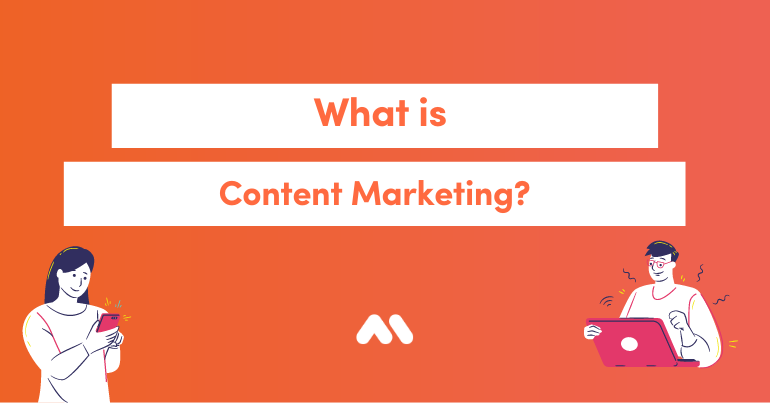 Let me set the scene. You're sitting in a marketing meeting and someone mentions content marketing. It's a phrase you're familiar with but you've never quite gotten around to googling the exact definition. You nod along confidently as if you know what's going on. It's now 15 minutes later, your boss has gone through 11 PowerPoint slides on the new content marketing strategy and you're feeling a little bit lost. If this scenario sounds even vaguely familiar then you've come to the right place.
This is how The Content Marketing Institute defines content marketing:
"Content marketing is a strategic marketing approach focused on creating and distributing valuable, relevant, and consistent content to attract and retain a clearly defined audience — and, ultimately, to drive profitable customer action."
In even simpler terms, content marketing is the act of creating and sharing content which doesn't necessarily promote your product or service but which generates consumer interest. Interest is the key word here- If you're creating content which doesn't sell your product and which doesn't interest consumers then, to be blunt, you're wasting your time. When executing a content marketing strategy, you have to continually put yourself in the shoes of your target audience.
Did you know that content marketing gets three times more leads than paid search advertising. Below are just a few examples of the various approaches you can take to content marketing:
1) Blogging
Blogging is a must-have when it comes to content marketing. In fact, the blog that you are reading right now is a part of Margin Media's content marketing strategy. According to Lyfe Marketing, blogging is one of the most popular methods of content marketing. This is hardly surprising given the fact that blogs are one of the best ways to improve your SEO ranking and to increase the volume of organic traffic heading to your site. Blogging is an effective and low-cost marketing tool, ideal for businesses of all sizes. To learn more about optimising your blog page for SEO read our blog post named 'What is On-Page SEO?'.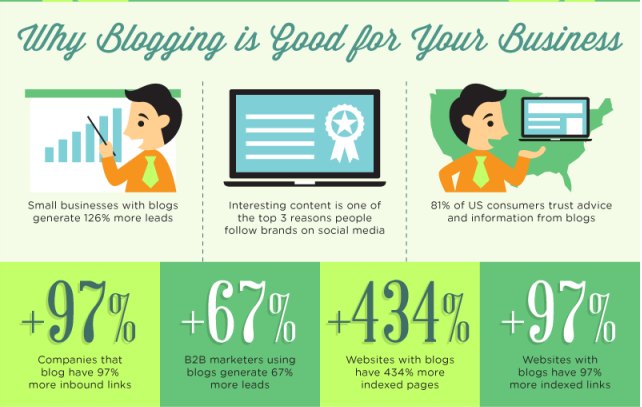 This graphic by Lyfe Marketing shows the various benefits of Blogging as part of your content marketing strategy.
2) Video Content
Did you know that, according to Forbes, 64% of users are more likely to buy a product online after watching a video?
Android's 'Friends Furever' video which was part of their 'Be Together. Not the Same.' advertising campaign is a prime example of successful video content marketing:
Do these animals have anything to do with Android? Not really. Was this a clever marketing strategy? Definitely. This video was shared over 6.4 million times and was the most shared ad of 2015. In fact, if you click onto the YouTube page, this is what the top comments say:
"This is the feel-good commercial of the year…it's hard not to smile at this."
"Goes straight to the heart"
"Possibly the best commercial ever to be made"
Android had well and truly planted themselves in the hearts of consumers all over the world, using one relatively simple video of curated content.
3) Infographics
Put simply, an infographic is a graphic which contains, data, statistics, graphs and other quantifiable information.
In 2015, a travel agency named Lawrence of Morocco executed what was possibly one of the greatest content marketing strategies using infographics. Lawrence of Morocco are a company who offer their customers tailor-made holidays to Morocco. Taking advantage of the fact that the massively popular TV show Game of Thrones was filmed partly in Morocco, they created an infographic-style map.
Just to clarify, this company took a popular TV series which it had nothing to do with, created one extremely relevant and shareable infographic, and used it as a very clever content marketing strategy.
The results?
Their number of website visits increased by over 11,000 in just 2 weeks
The company had 12 consecutive days of all-time-high traffic to their site
A 245% increase in referral traffic compared to the same period the previous year
Coverage and links in the Washington Post, Mashable, Business Insider, Yahoo and several other top-tier publications
More than 100 new domains linking to their site
This truly is an example of content marketing at its finest.
What Makes a Piece of Content Good?
Your content must be valuable. Value can come in the shape of any of the four factors below:
Educational or Informational: This is a piece of content that your target audience will find helpful. For example, a 'How To' blog.
Entertaining: Content that your audience will find amusing, fun and or relevant.
Emotional: Any piece of content which makes your viewer cry, laugh, think or feel will always be memorable.
Socially Valuable: Content which represents your readers morals and values is more likely to be liked, clicked on, shared and could potentially even go viral.
Consistency is also key. In order to sustain your audience's interest and also to rank higher on Google, you will need to produce and share content on a regular basis. A sporadic and unreliable content marketing strategy is almost as bad as having no content marketing strategy at all.
To find out more about nailing your content strategy read our blog on the 5 C's of Digital Marketing.
Why Should I use Content Marketing?
Increase Sales: Research by the Content Marketing Association states that over 50% of consumers were positively impacted by content marketing
Retain Customers: In an increasingly more competitive sales and marketing landscape, content marketing will both inform and entertain your consumers and therefore keep them engaged.
Build your Brand: If you want to transform or establish your brand, content marketing is a fast and effective way to convey the personality, tone and values of your company.
There you have it, an insight into the elusive concept of content marketing. Next time you sit in that marketing meeting you won't have to worry about getting that 'deer caught in the headlights' look. In fact, you might even be the one giving the PowerPoint presentation on content marketing.