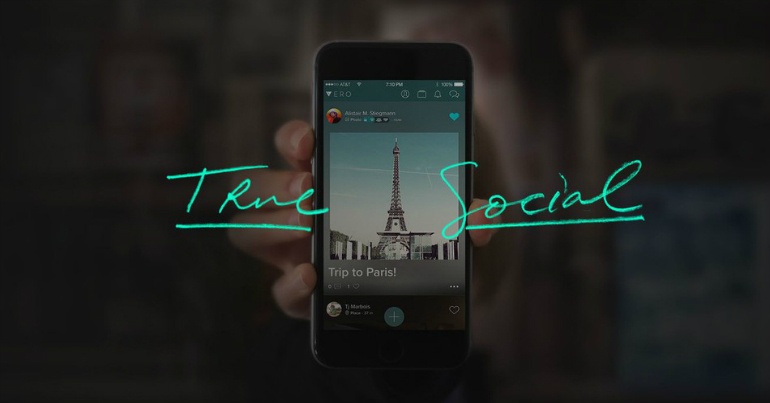 Seemingly overnight, Vero began to flood the internet. While hundreds of thousands of people signed up to the social platform in a matter of days, others scrambled to keep up.
The platform is positioning itself as the antidote to Instagram and Facebook. With an ad-free and algorithm-averse philosophy, it's purposefully going against the flow of current social platforms.
The apps manifesto says that it "lets you be yourself", creating a more authentic social experience. After all, Vero means truth in Italian.
But what is it?
Vero is very similar to Instagram (it is largely a photo-sharing platform) except it also lets you post text or link to web content with URLs. On top of that, it has a recommendation feature, letting you discuss and share music, books and films.
Image via. Vero
It's layout is similar to early Instagram, but all posts appear in reverse-chronological order (rather than the dreaded algorithm). The "night-mode" design is also quite different to the bright, white colour palette of the likes of Facebook and Instagram.
You connect with "friends" on the platform - like Facebook - but it lets you sort your contacts into tiers and decide how big your audience is for each post you send out.
Despite the almost overnight rise of Vero, the app was actually released to the market in 2015. It was created by billionaire businessman Ayman Hariri, son of former Lebanese Prime Minister Rafik Hariri. Hariri has a net worth of $1.33 billion.

Why is it suddenly so popular?
There's not a simple answer to this question, but it could largely be due to the widespread frustration with Instagram's algorithm, which at the moment rewards posts with high engagement.
The introduction of the algorithm caused a lot of headaches and complaints, particularly from small businesses and artists who rely on Instagram for connecting with their customers, and the frustration has only grown, rather than dissipate.
What does it mean for marketers?
At the moment, Vero doesn't offer any opportunities for marketers and advertisers. As mentioned, their philosophy is ad-free.
But that begs the question, how will they make money?
Well for the first million users, Vero will be free, but anyone after that will have to pay a yearly subscription fee, which will probably amount to the price of a couple of cups of coffee.
On top of that, Vero plan to make commission on any sales that happen through the app. As people can post links and access to products they are talking about, Vero will take a cut of any click-through that results in a sale.
Is the hype over already...
While some have been left scrambling to catch up with the new Vero craze, others have already turned against it.
It seems that all the hype around Vero has also lead to its fall from grace. The sudden influx of users signing up to the platform caused their servers to crash, people also quickly began to question how to actually use the platform, and then the dubious history of the app's founder Hariri was brought to light.
Tech hub Mashable then posted an article titled "How to delete your Vero account", highlighting the sudden change in public opinion and also the surprising difficulty of doing so.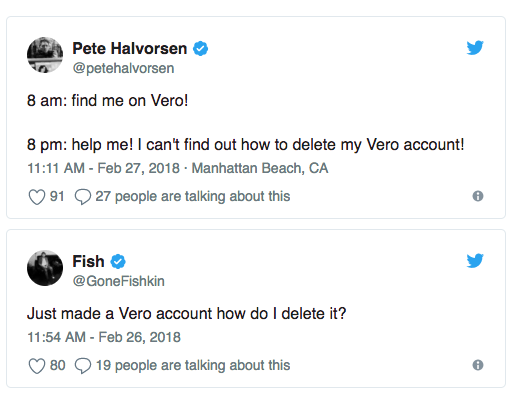 Given that one of the main pillars of Vero's "philosophy" was the promise of keeping minimal data on their users, once deleting your account it's noted that "some information may remain in our private records after your deletion of such information from your account."
And that's after you email them to request your account be deleted and wait as it goes "under review".
It looks like there's still a few issues to smooth out before it can have the lasting impression of Instagram and Facebook.
Did you jump on the Vero bandwagon? What do you think of the app?