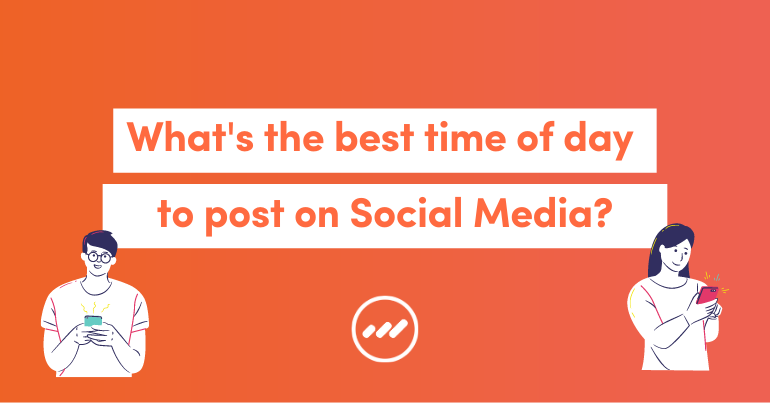 The thinking behind social media marketing is simple. Post content, build a following, increase your traffic and awareness, and increase your sales. Optimising for this chain reaction is the tricky part.
The key to social media growth is simply posting quality content that provides value to your audience, and posting this as often as possible without letting the quality suffer. Nobody logs on to their social media platform of choice to see bad content after all, so businesses have to create the best possible posts.
Now, "as often as possible" does not mean that you should post 16 times a day, it simply means that you should post as often as you are able to. Social media is so integral to some businesses that they'll prioritise posting several times per day. Others will only have time to post once or twice per week. And that's fine.
With every account on their A game, an increased focus has been placed on gaining an edge through optimising the finer details. Like when to post on social media.
So when should you post?


The biggest secret in social media marketing
Here's the real inside scoop: there is no one size fits all in marketing. Everything you do should be centered around your unique audience and be tailored to their behaviour.
Hypothetically, let's say that the average business gets their highest engagement levels from posting on Wednesday at 9 am. Why would that matter to your company if your audience is online at 10pm on a Sunday?
Additionally, different companies recommend different posting times based on the data that is available to them. Let's take a look at what some of the platforms in this space say about posting on Facebook:
HubSpot recommends posting at 9:00 a.m., and says that the "best days to post on Facebook are Thursday to Sunday"
Oberlo: recommends posting between 1 p.m. and 4 p.m. on Thursday, Friday, Saturday and Sunday
Sprout Social: claims that the best time to post is Wednesday at 11 a.m. and 1 p.m., and that "Sunday has the least amount of engagement for Facebook during the week"
Three different sources, three different answers. HubSpot and Oberlo agree on the days, but can't agree on whether it's best to post in the morning or afternoon. Meanwhile, Sprout Social says the exact opposite of the latter two and claims that Sunday is the worst day to post.
Who do we trust here? The two companies that agree on the days or the dedicated social media management software?


In conclusion
The time of day to post used to be more important in the old days of social media, when we still had chronological news feeds. At the time it was important to know when most people logged onto social media so that you could post directly before, and be seen by as many people as possible.
Users are now being shown posts that an algorithm believes they'll be likely to enjoy. This makes more sense for the social media platform because enjoying the content will keep you scrolling through. They want to keep you on their app or website for as long as possible, so they need to show you content that will keep you hanging around.
Creating good content is therefore more important than ever, and when to post is less important than it's ever been before. A bad post published at the perfect time won't do you any good, but a good post published at a suboptimal time can still gain traction through high engagement.
Here are our recommendations:
Like we said in our blog "The Best Time to Send Your EDMs", the old adage "midweek, midday" can be your default. It is a safe starting point.
Use tools like Google Analytics and Instagram Insights to find out when your audience is online. Adjust your posting times accordingly.
Focus on creating high quality content that will keep your audience coming back for more.


Related article: Facebook has Become Pay to Play: Here's how to Win!