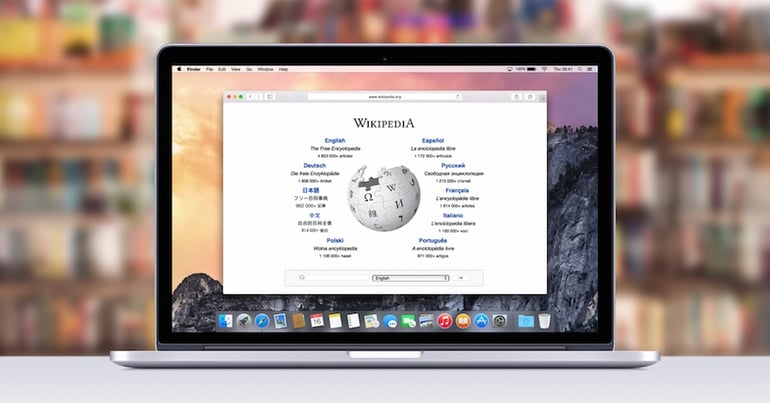 Read time: 2 - 3 minutes
What was the date of David Bowie's birthday? In what year did the Berlin Wall fall? How long can a guinea pig live? At what temperature can you bend steel? It's questions like these that most of us take to Wikipedia.
The online community-driven encyclopaedia has gained the trust and uncanny behaviour of users all over the world – want to learn more about something? Wiki it.
This free-to-use service has been curated by people from all over the world for the past 15 years, and while there can be doubts as to how much of the content can be trusted as absolutely accurate since it is edited by users, the same fact can also explain exactly why people trust Wikipedia. Constantly edited and checked by users of all levels of knowledge and expertise – Wikipedia is perhaps one of the greatest experiments in sharing knowledge online that has ever occurred.
Today over 36 million articles have been logged, and some 80,000 volunteers make around 15,000 edits and create 7,000 new articles each and every hour.
What if one day Wikipedia could no longer be a free service? Would this discourage this culture of learning and sharing that drives Wikipedia and made it become the icon it is today?
Wikipedia attracts the seventh most traffic in the world, according to the rankings of tracking service Alexa. All the other websites more popular than Wikimedia are run by profit-driven companies, including Google, Facebook and Amazon.com, that employ thousands of employees.
Jimmy Wales, co-founder of Wikipedia said, "We stay very mission-driven. One of the things that we are focused on is the idea of having an encyclopaedia available for every person in the world in their own language. As you go in that direction, these (requests for money) are some of things you need to do to build that long-term dream."
For years, Wikipedia has done donation runs and encouraged fundraising pursuits to keep the site running and its service free – and now they believe they've come up with a solution to help keep it free for the next 15 years, and optimistically indefinitely.
Starting with less than $1 million donated by the estate of Jim Pacha, a software engineer who died in 2014, the goal is to accumulate $100 million by 2026. Wikipedia won't begin drawing money from the endowment until after it's fully funded. Wikipedia still plans to ask its users to donate money to keep advertising off its website. The additional income from the endowment will help insulate Wikipedia from economic turmoil and other potential threats to its survival, said Lisa Gruwell, chief advancement officer for the Wikimedia Foundation.
So far, over the course of the site's history, Wikipedia has managed to raise $250 million through its regular campaigns, but the foundation believes a permanent endowment should provide more stability.